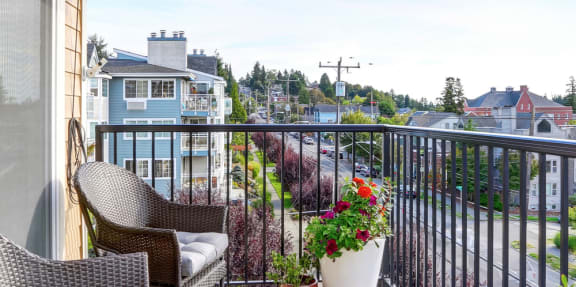 Best Plants for an Apartment Balcony
It's not just an extension of your living spacea balcony is also the perfect spot to create your own outdoor sanctuary.
Cozy chairs, a weather-proof rug, glittery string lights, and a table can make your apartment balcony an excellent spot to relax or host friends for weekend cocktails. However, plants are perhaps the most important things you can add. Greenery on your balcony is the easiest way to spruce up your space and bring the outside in.
We'll look at the best plants for an apartment balcony and give you indoor plant options to help your little green space thrive.
Find Your Light
When growing plants in apartments, finding the best source of sunlight is critical. Some plants do very well in full shade, but if you want to take advantage of more plants for your decorative apartment balcony, you need to know where the sunlight is.
Knowing how the sunlight changes throughout the year is also essential. This website is a handy tool that will help you determine the sun's position where you live.
Once you've determined where the sunlight is, you'll need to determine which direction your balcony faces. After nailing down these details, it's time to shop for plants that suit your balcony's environment.
North-Facing Balcony
A north-facing balcony won't get a lot of direct sunlight. In this case, you'll need to choose plants that thrive in the shade and partial sunlight. Luckily, you have many beautiful options.
Let's take a look!
Flowers
Begonias are a top pick for shady areas. They sport bright green leaves and flowers in a variety of colors.
Fuchsia does very well in the shade, and has beautiful multi-colored petals. Fuschia plants are beautiful in hanging baskets.
Ornamentals
Caladiums don't flower, but they have striking, heart-shaped leaves in shades of green, pink, and white.
English ivy is perfect for a shady balcony. Plant it at the base of a trellis for a lush privacy screen.
Vegetables and Herbs
Spinach and lettuce both prefer the shade, so they're perfect for your north-facing balcony. Once the plants mature, you can snip off a few leaves whenever you want a salad.
South-Facing Balcony
South-facing balconies and windows will get the most sun. This level of sunlight means you have more plants to choose from. Just remember that with the sun comes heat, so water your plants often.
Flowers
Marigolds are simple flowers, but their bright orange color looks cheery and fresh. Also, marigolds produce a scent that may help keep mosquitoes away!
Zinnias are very easy to grow, and you can choose a dwarf variety for easy care. Zinnias come in numerous colors, and they bloom prolifically. Cut the flowers often to use in vases and to promote new growth.
Ornamentals
Red fountain grass loves the sun and looks dramatic when potted. The grass stalks grow to heights of three feet or more. Position them strategically so they don't block your view.
Vegetables and Herbs
Your south-facing balcony is perfect for a herb garden. Basil, dill, parsley, rosemary, and lavender will love your south-facing balcony. Just be sure your friends and neighbors will welcome the gift of fresh herbs because you'll have a lot.
West-Facing Balcony
Your west-facing balcony is the perfect space for plants that can tolerate high heat. You can also choose plants that offer shade, which can help keep your apartment cooler.
Flowers
Consider hibiscus if you want to add a tropical flair to your balcony garden. These plants do very well in heat and the sun. In the right conditions, they can grow quite tall and provide a bit of shade.
Ornamentals
Half flower, half ornamental, common jasmine smells delightful, loves to climb a trellis, and tolerates full sun. Place the trellis against a wall for a dramatic green and white effect.
Vegetables and Herbs
Cherry tomatoes grow nicely in the heat of a west-facing balcony. Just be sure to put a cage around the plant to keep it from taking up too much room. Strawberries are also well-suited to heavy sunlight.
East-Facing Balcony
Your east-facing apartment balcony gets the least sunlight, and the sun it does get isn't usually too harsh. But there are still many types of plants that love eastern sunlight, so you'll have no trouble creating a mini garden.
Flowers
Orchids love bright light but don't do well in direct sun. Choose a phalaenopsis for big, beautiful blooms. Watch the leaves for brown spots, as this is a sign they're getting too much sun.
Cosmos are another excellent choice. They have a beautiful wildflower appearance and are a butterfly's favorite.
Ornamentals
The ornamental sweet potato vine grows well in less sunlight. This vine has beautiful green and purple leaves and can climb as high as three feet. The tubers are edible, but most people say they're not as tasty as their garden cousins.
Vegetables and Herbs
Garlic, onions, and mint are great options for an east-facing balcony. Sugar snap peas will also do well in this location. Just be sure you don't place your vegetable containers behind other plants you might be using as a privacy screen.
Start Growing the Best Plants for an Apartment Balcony Today
Styling an apartment balcony with plants is a breeze when you know how to work with the light and space you have. Find your light, check your almanac, then head to your local nursery for all the tools you'll need to create a beautiful garden featuring the best plants for an apartment balcony.
If you're looking for an apartment, schedule a tour at Willow Crossings. We have various floor plans and amenities to suit your needs, conveniently located in Terre Haute.
We can't wait to see the beautiful garden you create in your new home.
Testimonials
This is in a very good area of town. The apartments and grounds have been upkept very well. I would live here because it seems very family friendly. There are storage units on site also, which is a plus.

- Rent.com
For my price range, these are the nicest ones around. My stove quit last year and they completely replaced it 2 days later after they couldn't get it fixed. I have had some issues with noise from my upstairs neighbor but he recently moved out and I know it probably happens a lot being a downstairs apartment but that's really it. I'm happy here and like I said, for the money, it's better than anywhere around for sure!

- Apartment Ratings
I have been staying here for 2 years. There have been minor issues so minor not worth mentioning just what you would expect from renting an apt. Any issues I've had were resolved in a timely manner. The staff is awesome. Never had any issues with them. If u are moving to TH I'd recommend these apts.

- Apartment Ratings